What Are PR Clippings & How To Implement Them
So, you're planning your first PR campaign and you've covered all your bases to make sure it attracts the audience you want. But how will you know you've managed to gain the awareness you need and reach the goals you want? That's where PR clippings come in! They're a necessary part of ensuring you're staying on top of what the public actually thinks about you. 
At PressKitHero, we believe that startups and small businesses deserve to have their own press kits to share with journalists and publications to ensure their story and value is correctly presented. So, we understand how beneficial PR clipping can be for your startup. In this article, we'll look at what PR clipping is and how you can leverage its power to improve your public relations strategies. 
What is PR Clipping? 
PR clipping (also known as press clipping) analyzes how practical your public relations activities are. It involves collecting media mentions (clips) about your business from online or offline sources. 
You can use PR clipping to establish how often your business has been featured online or in print and broadcasts. It's possible, and better, to collect the clips in real-time so you can view and analyze them as soon as they appear. Of course, the way to do this is through media monitoring tools.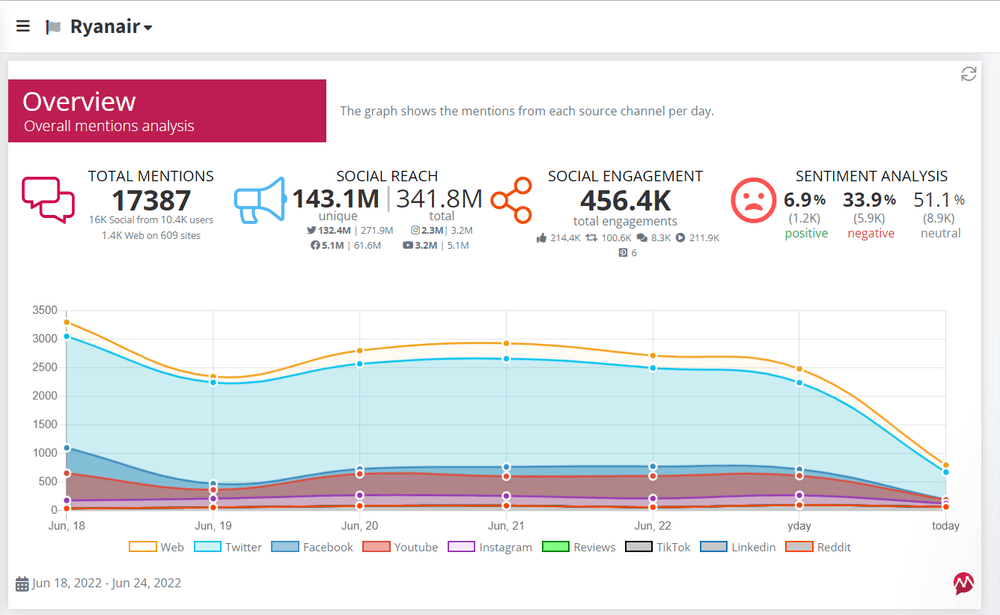 Why are PR Clippings important for your startup?
PR clipping can help you maintain an understanding of your presence and reputation in the media. But that's not all. Here are some valuable benefits of PR clipping that you should consider.
Measuring the effectiveness of a campaign
You can use PR clipping to measure how effective your campaigns are with the media. The clips can show you which angles resonate with the media as well as your audience and how you can improve your future campaigns. 
Understand the customers' perception of your brand
The PR clippings you collect will let you know what sources are saying about your brand. This will help you understand the public perception of your brand, and you'll be able to see what you can improve.
Manage brand reputation
To collect your media clips, you need to do a lot of media monitoring on various platforms. You can use media monitoring to perform a sentiment analysis of your brand to differentiate the good press from the bad. This helps you stay aware of your brand reputation so that you can manage it and stay ahead of the competition.
Helps improve public relations
You remain in synergy with the public when you constantly collect your PR clippings. You'll then be able to improve your public relations campaigns overall, so that you can cater to your audience's needs while strengthening your business's credibility.
Once you have them, you can also add your positive PR clippings to your media kit and send them to journalists. Fortunately, PressKitHero has a simple no-code press kit builder to help your business stand out the way you want it to.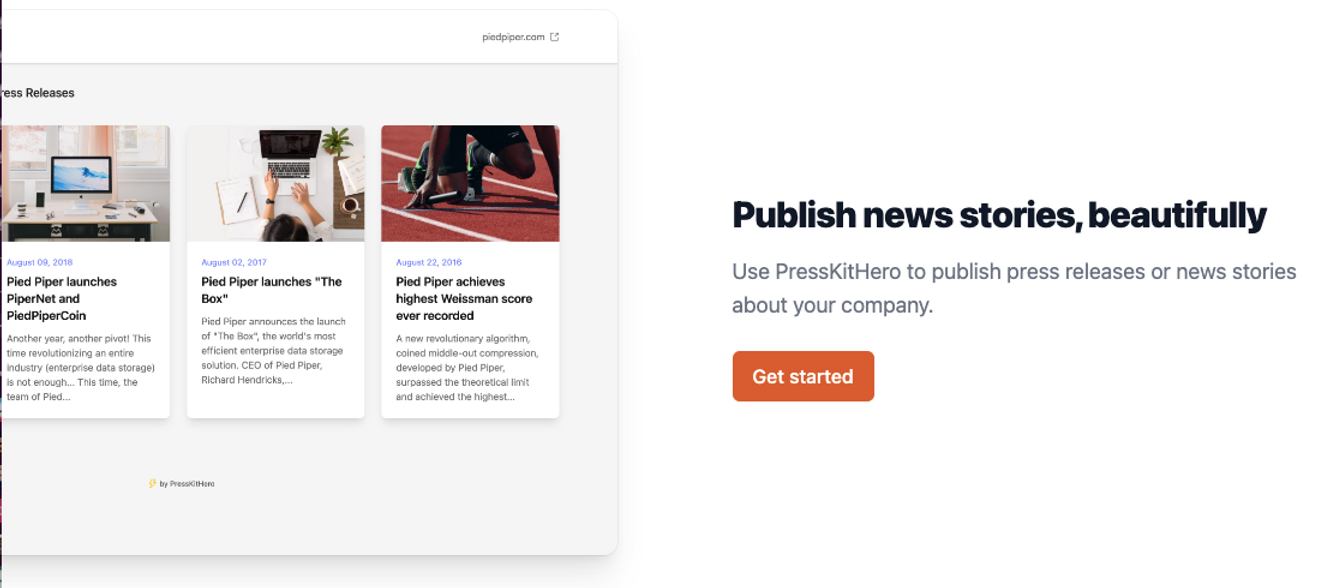 How to Make Your PR Clippings Effectively
As a startup, you already have a lot to think about, so establishing your PR clipping strategy using the right tools is what we're going to help you do. 
When introducing PR clipping into your everyday public relations strategy, you'll need a dedicated service to help you automatically detect and track your brand mentions in real-time. The monitoring tool shouldn't be too complex, where it takes time to learn how to set up and manage. 
Here are some aspects to consider when choosing your monitoring tool: 
It should have a free trial so that you can test it out before you invest.
A tool that offers real-time notifications is highly beneficial because if your brand so happens to be mentioned negatively, you want to take action as soon as possible.
Choosing a tool with automatic sentiment detection is worthwhile so that you can easily view if your mentions are positive, negative, or neutral. 
Although you can make your own reports, a tool that offers ready-made, downloadable reports can save you a lot of time. You should also be able to customize them if you want to publish the report in your press kit. 
If you want to start with a free media monitoring service, you can look at Google Alerts. All you need to do is type in your keywords and select your filters. This is a good start if you're just exploring the benefits of PR clipping. However, Google Alerts isn't a fully comprehensive tool, so you might want to explore other options if you want continuous tracking and sentiment detection.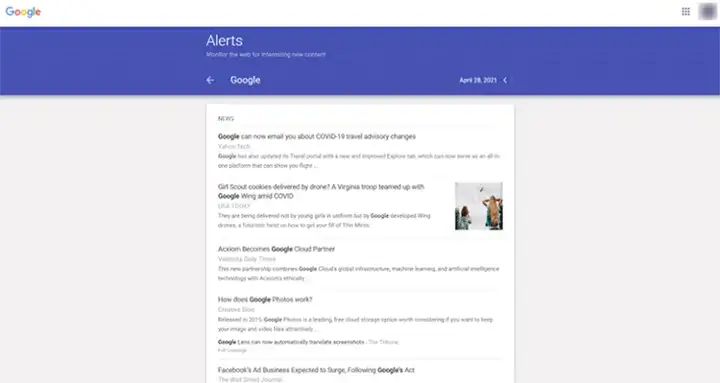 There are free, paid, and premium media monitoring tools available. But, like Google Alerts, the free tools are simply a preview of what paid tools can offer you. It's best to consider paid tools, which can be affordable for startups, especially when examining their basic and mid plans.
Here are our top selections (which offer free trials) that you can explore:
#### Brand24
Brand24 is an effective tool for media monitoring because it gives you ease of use, and is time-effective for a reasonable price. You'll be able to track your social mentions along with the sentiment attached to those mentions for your brand as well as your competitors. The tool starts at $49 per month for their Plus plan.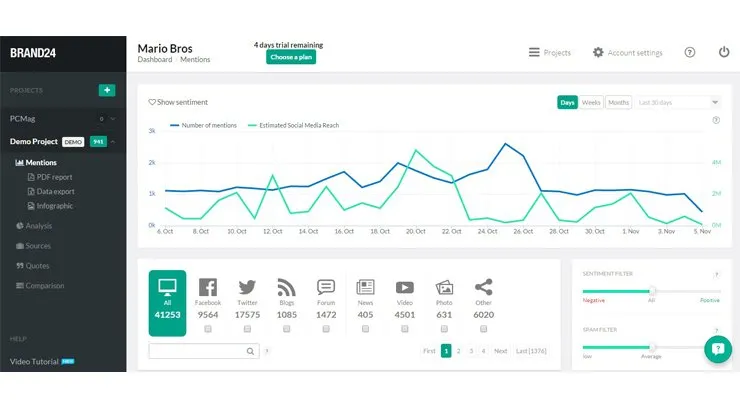 #### Mentionlytics
Mentionlytics is an all-in-one tool for monitoring your mentions in social media, news media, and other digital platforms. Through relevant keywords and hashtags, you'll be able to stay updated with your brand's performance all over the web in real time. Plans start at $49 per month and you get a 14-day free trial.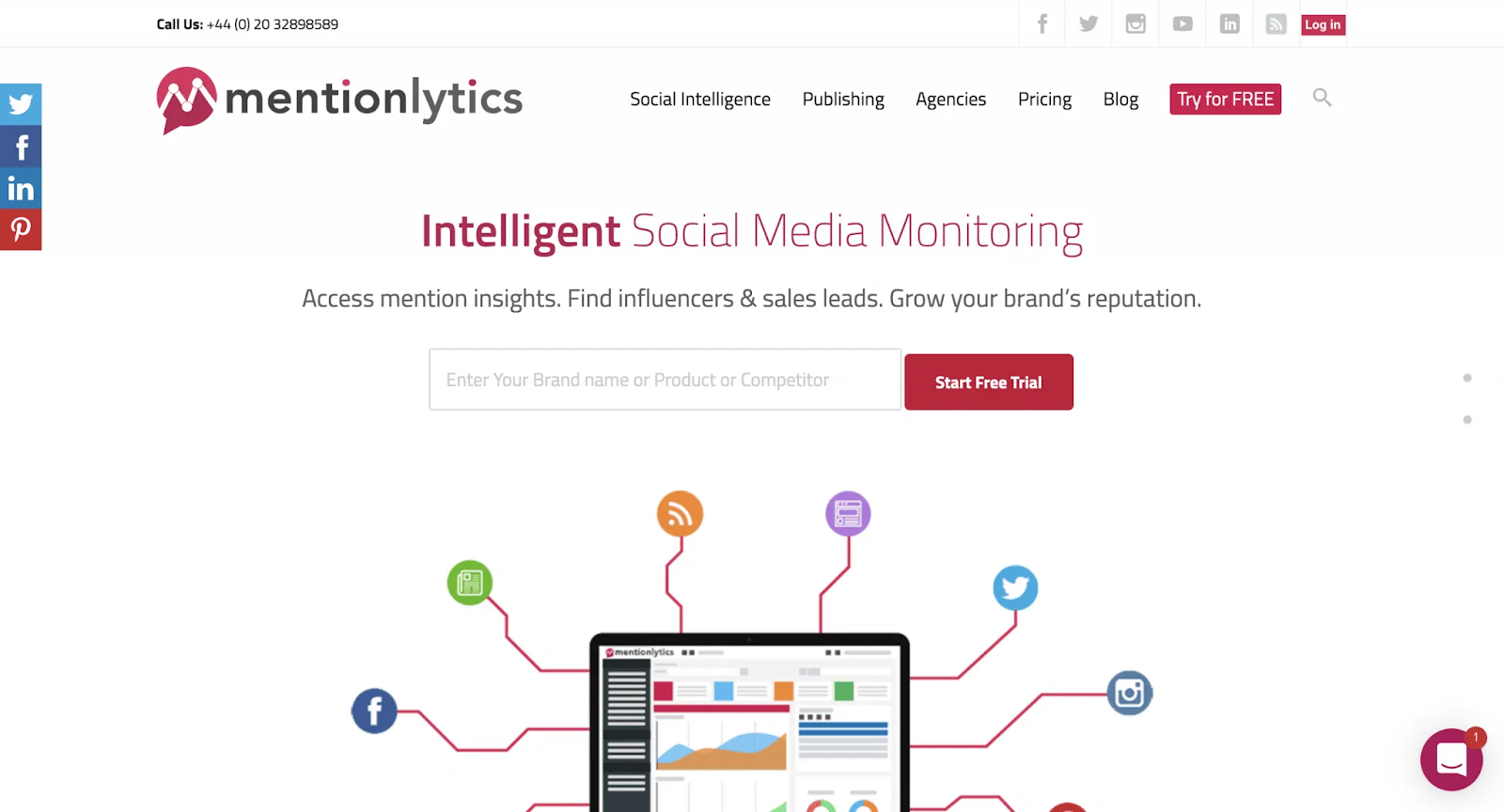 #### Social Searcher
Social Searcher is a monitoring tool that helps you track user actions related to your brand on social media and the web. It offers you one dashboard to streamline your tracking efforts and the option to set up email alerts about any new mentions as they come in. The tools Basic plan starts at €3.49 per month.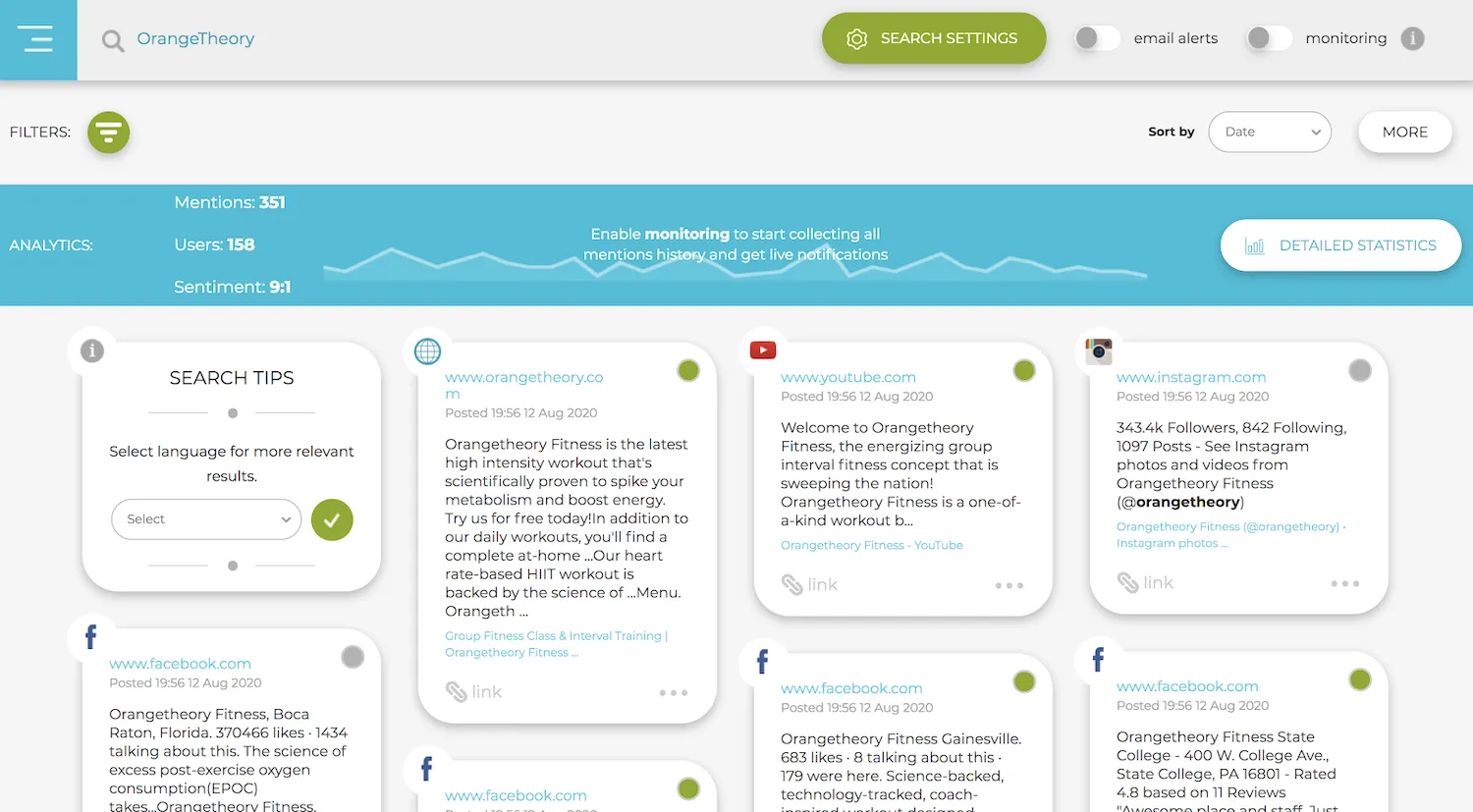 #### Covered Press
Covered Press is a more advanced PR platform that combines the essentials of press tracking, reporting, and analytics for your brand. The platform is also great for connecting with journalists and sharing your pitches based on your mentions in the media. Plans start from $195 per month.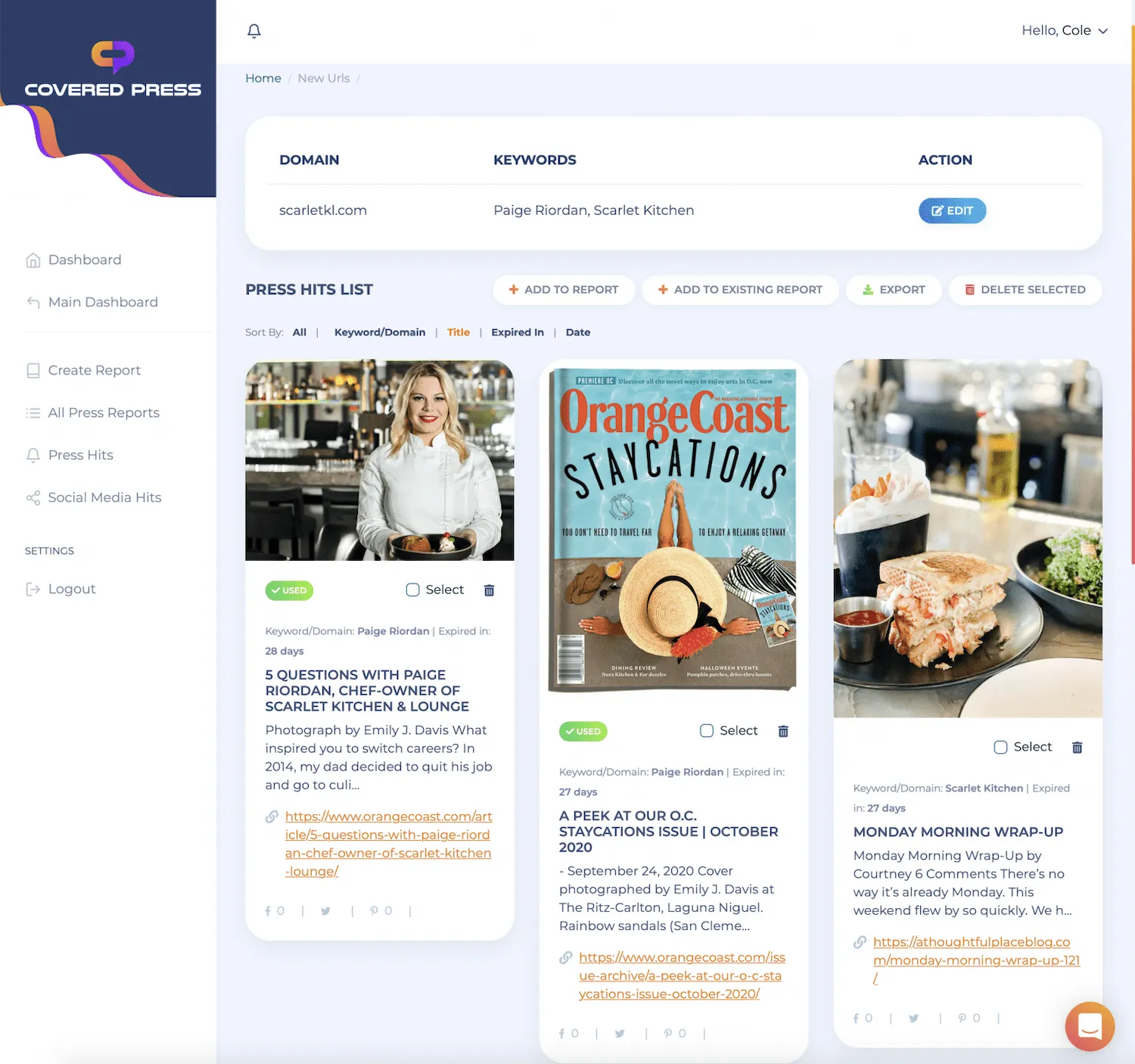 #### Reputology
Reputology is specifically developed to monitor your online reviews. Ultimately, it keeps you updated on what people are really saying about your product online so that you can make the necessary improvements. The tool offers plans starting at €8 per month with a 14-day free trial.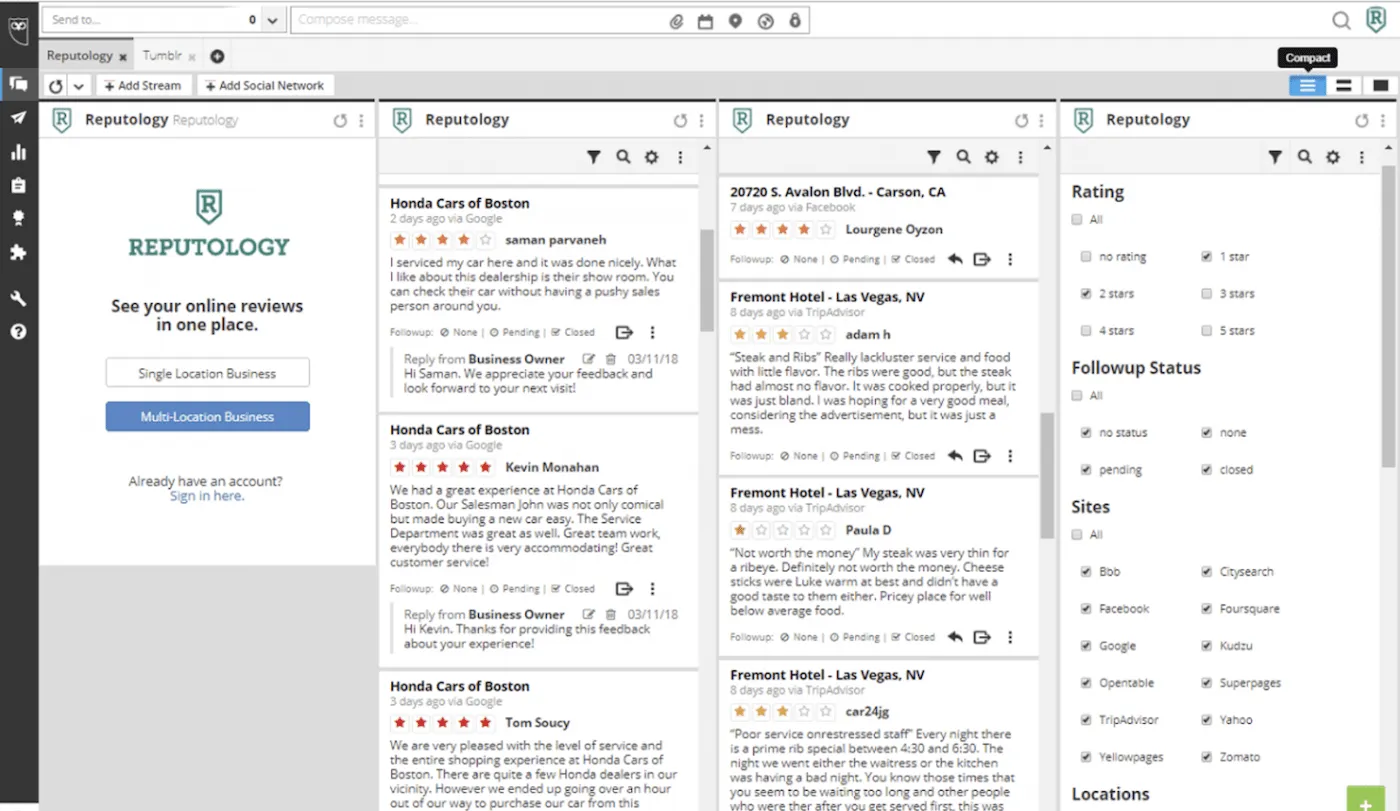 Once you have your tool, you can start collecting your data on the specific words and phrases that are directly related to your campaigns. 
After launching a press release or a PR campaign, you can create a project dedicated to searching for buzzwords and brand mentions attached explicitly to the campaign. It's important to separate the projects because you want to get the long-term impact data for each campaign to see if it met or exceeded the goals you put in place. 
A good tool will allow you to track multiple projects at once if you need to. However, as a startup, this may be a minor concern at the beginning. You can track each project for a specific amount of time before you collect your final results and move on to the next one. 
Step 3: View the results
Once your established media monitoring period for a specific campaign or press release is done (for example, 3 to 6 months), then you can review the results with your team. 
You can focus on if the results show high levels of brand awareness and if the sentiments were mainly positive or negative. Pay attention to any patterns or trends that may arise because they can be insightful for your future campaign strategies. For example, was there a demographic or other industry that found your campaign or press release insightful?
Step 4: Finalize your report
The final report of your data is used as a reference for improvement and a form of credibility for your brand. Your reports will explain why certain campaigns succeeded or had no effect. Once you've consistently collected PR clippings, you'll be able to track and measure your long-term progress efficiently.
Depending on what you prefer, you can present your PR clipping results in the following formats:
PDF reports: best for adding to your PR emails to journalists
Excel reports: best for referencing your progress
Infographics: best for adding to your media kit or press page
Wrapping Up
Media monitoring and PR clipping should be considered when analyzing and determining the success of your PR campaigns. It's essential to keep track of positive and negative views about your brand so that you can make the necessary improvements at the right time. Fortunately, you can automate this process with PR clipping tools at your disposal. 
Of course, your positive PR clippings will help you much more if you include them in your media kit. If you haven't built your media kit yet, you should consider PressKitHero's no-code builder and sign up for a free trial!