Your Press Page Guideline: 10 Examples 
So, your marketing efforts have gained you a little bit of attention from your customers, but you're not sure why publications aren't reaching out. You probably don't have a press page to convince them to contact you.
Think of a press page as the window to the soul of your business. It's what gets you noticed, and as a startup, you're definitely going to need one. 
At PressKitHero, our press kit know-how can guide you in the right direction to get some much-needed media attention. Now let's take a deeper look into what defines a press page. 
What is a Press Page? 
A press page is a page on your website that's dedicated to showing your press contacts and all the times your business was featured or mentioned online and offline. This includes: 
Articles 
Publications that feature your products and services
Certified awards
Mentions on any websites that aren't yours
Social media mentions
Any events that have promoted your business
Essentially a press page offers you two functions. Firstly, you can show off your business's published features. And secondly, you provide journalists and PR experts with the necessary information they need to quickly learn about your business. 
Press pages are essential for startups because your necessary business information is made public and made more accessible to the press. It doesn't matter if you haven't made it into the headlines just yet. Success comes when you're prepared. 
How Does a Press Page Benefit Your Business?
Inbound PR
When journalists are looking to write a story about current trends or news in a particular industry, they'll collect insights from a wide range of businesses to get enough depth and balance. 
And where do you think they look for this information? Business Wire reports that 73% of journalists will go directly to a company's press page. With an insightful press page, you can be one of those businesses that are included in their story. It still benefits you even if the story isn't all about you. 
Think about it this way, if you do your press page well, you get usable content that high-authority publications can professionally promote without you even asking for it.  
Outbound PR 
Now, this is where you're actually pitching your content to the media. However, to support your pitch, you'll need to link a strong press page to prove that you're ready. PR experts and journalists will enjoy going through a press page that's neatly categorized and full of information about your business that they don't have to ask for. 
Shows You're Press Ready
A stunning press page allows you to be taken more seriously and gain more traffic to your site without you having to push too much. This is because when journalists include your business in their publications, your links are spread out right where potential customers can find them. 
Here are some additional benefits you get from a press page: 
External links within your page can improve your business's search engine rankings
Third-party sources showcasing reviews of your business can help to improve trust in your business
Customers can view a more accurate reflection of how others experience your products and services
Showcasing input from industry experts can boost your brand credibility
Improves your chances of featuring in other journalists', PR experts', and industry experts' promotions, leading to greater visibility
Attract new leads to your business
Things to Include in Your Press Pages
According to a Business Wire media survey, PR experts consider three elements to be the most important in your press page: logos, pictures, videos, and infographics (57%); contact information (51%); and your company overview (38%). This shows you shouldn't be afraid to use attractive multimedia to make your page stand out. Just make sure it's easily comprehensible and accessible. 
Company Overview: Provide context to what your company is all about, your goals, and the value you already add to your industry. 
Contact Information: This should be the information of your company's team that handles press queries, so journalists can contact you immediately. 
Link To Digital Articles: This section can include any publication or social media mentions, interviews, and reviews from critics. Don't forget to link every single one!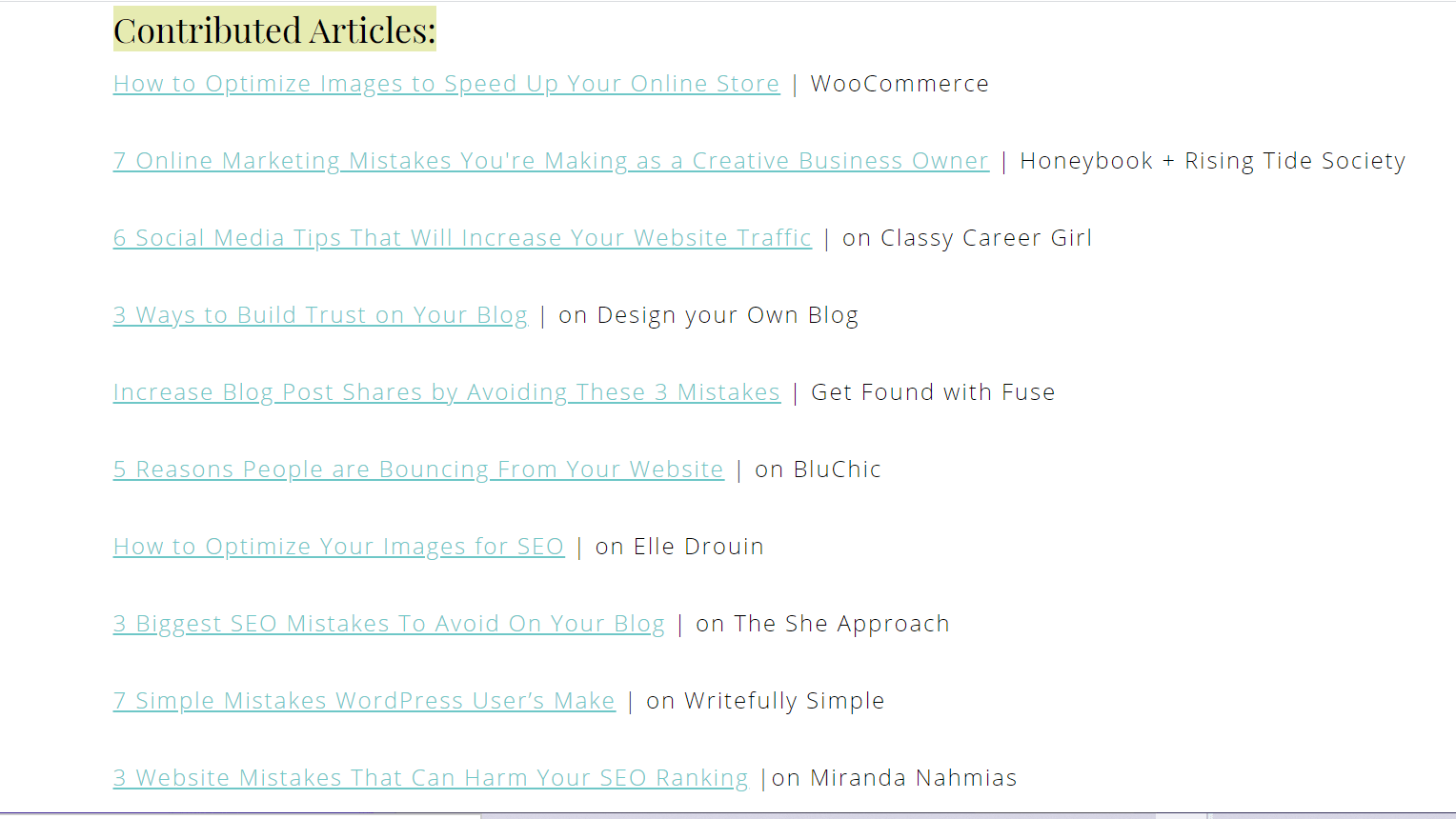 Press Releases: Your own press releases are just as important as your mentions. It'll also help inform journalists about trends in your business and help them pick something newsworthy. Here's an example from FreshBooks: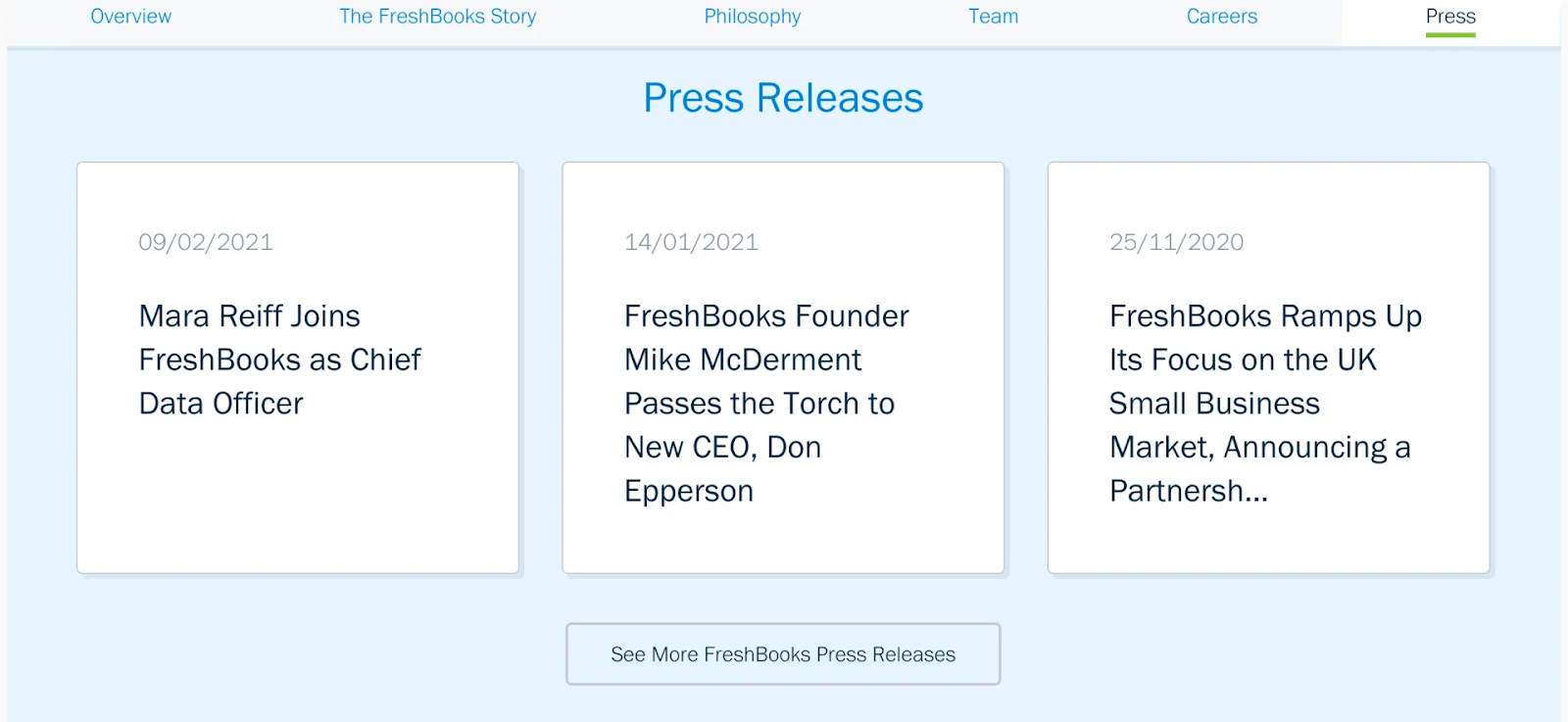 Consider Press Kits: It's best if these are downloadable for easy access. PressKitHero offers a no-code press kit builder where you can include your press coverage and rewards. It makes it much easier for journalists to go through what your company is about through one link.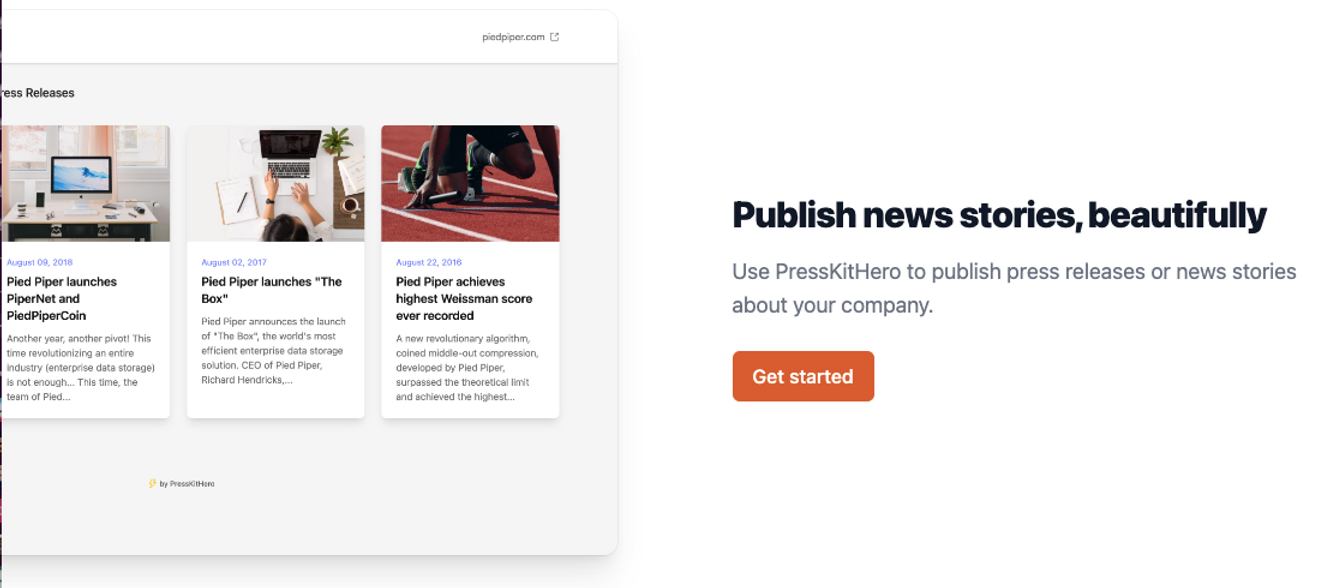 10 Great Examples of Press Pages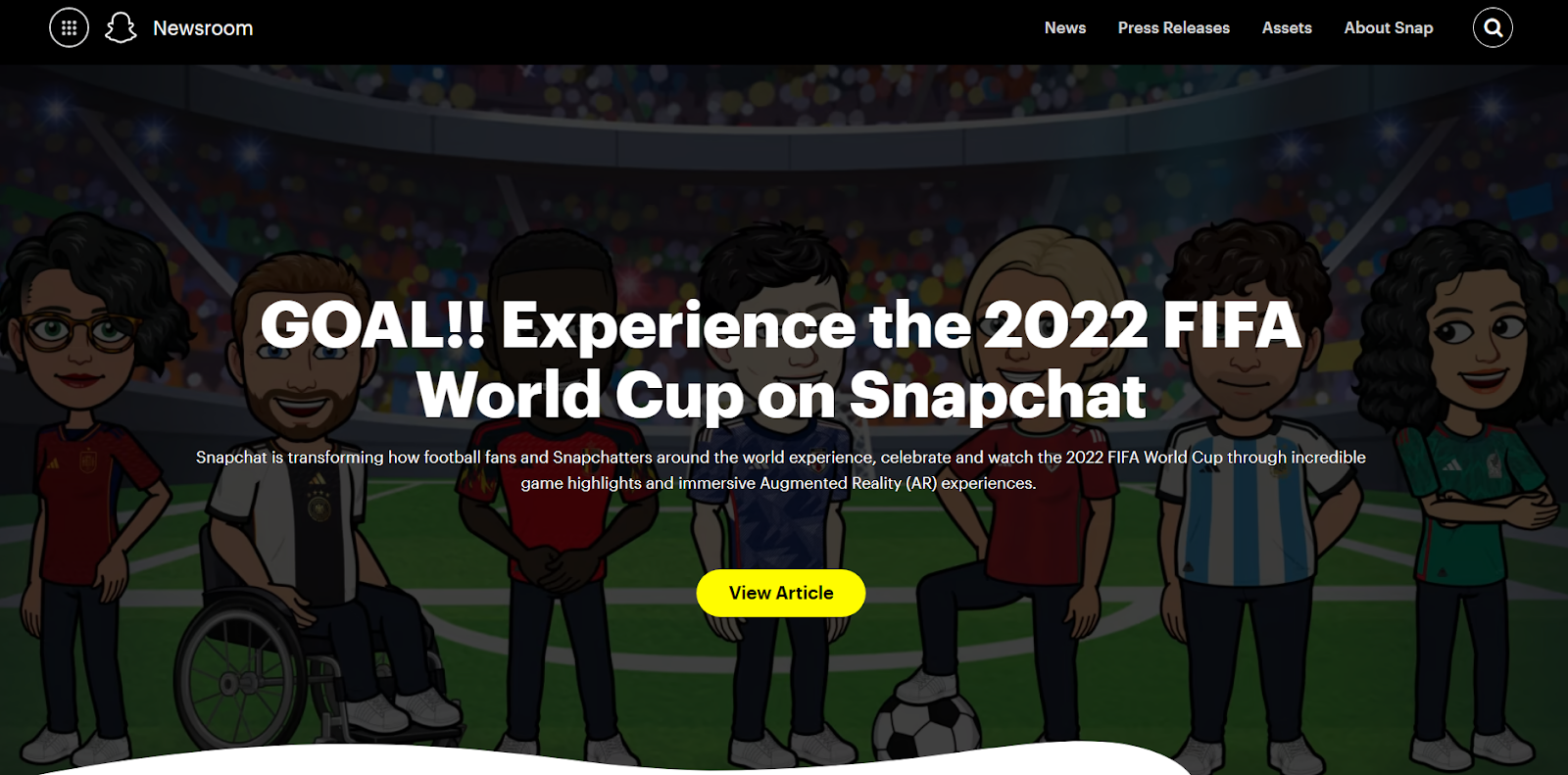 When Snapchat shares important news about their app, besides notifying their users, they also include this relevant information on their press page.
Their page is straightforward and optimized for mobile for better accessibility
There's a specific column for news that you can just scroll through
The bright contrasting color combinations are attractive to the eye and highlight the different sections of the page
"See More" buttons are included on the page so readers can view topics in depth. This also helps keep the page looking clean and allows space to include all the important aspects of a press page.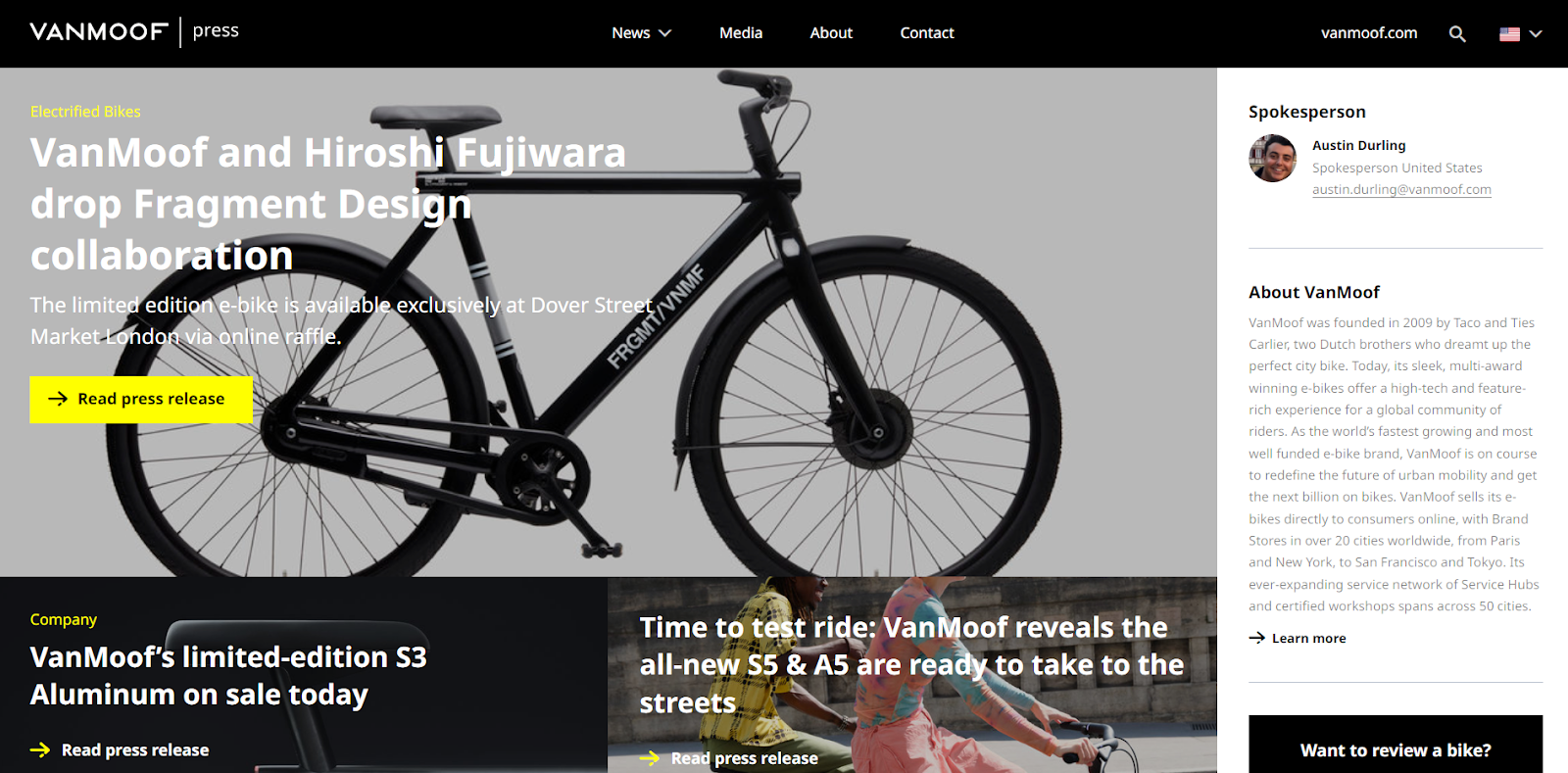 VanMoof Press Page
VanMoof uses strong imagery on their website, which translates well on their press page. 
A broad media kit section with all the information a journalist might need
They highlight their most current press release at the top of the page to draw attention to their most relevant news of the moment 
Press releases are categorized according to topic to make it easier to find the necessary information
Stunning visuals to display the brand's persona through the press page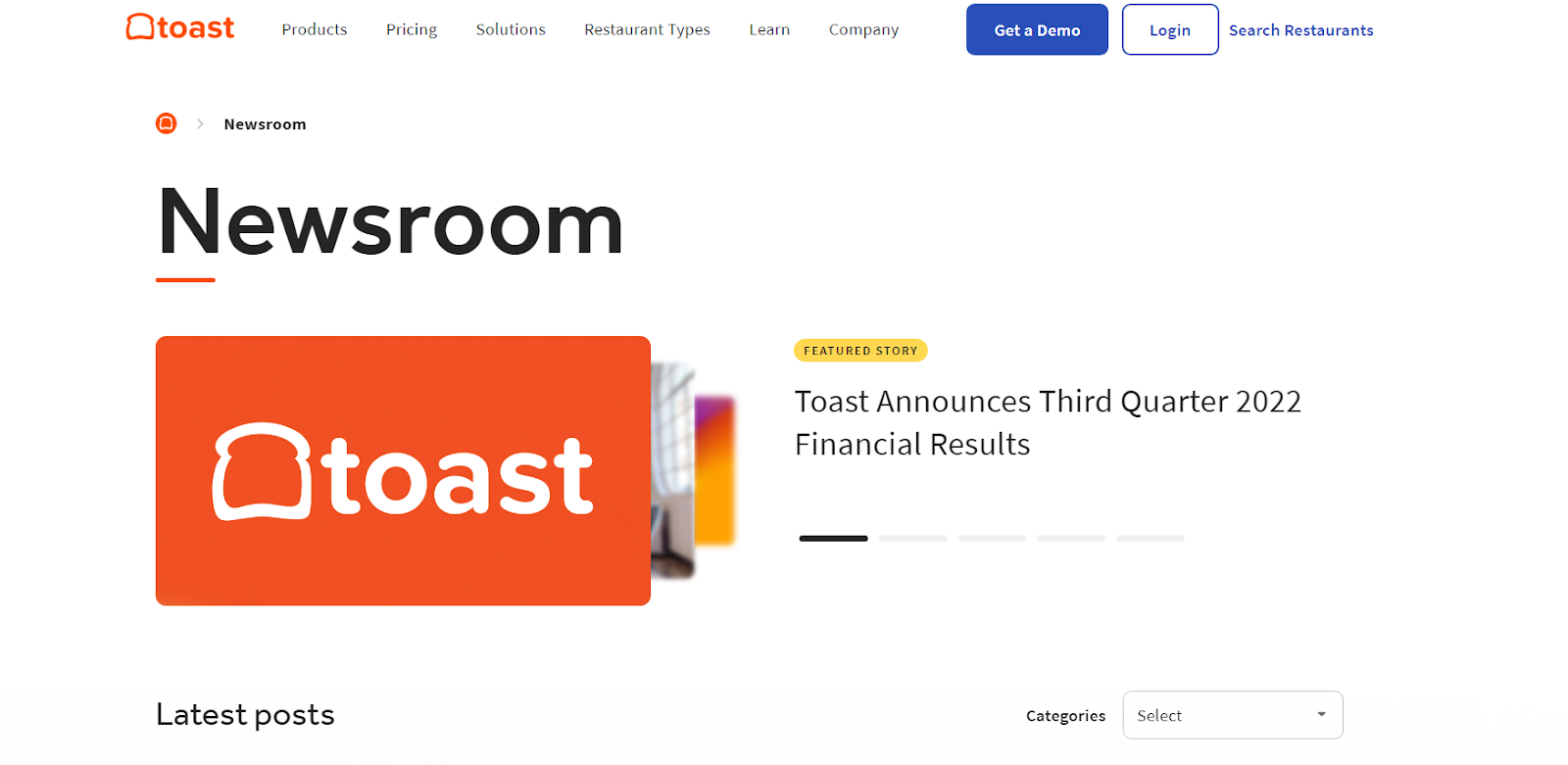 Toast Tab Press Room
Has a sophisticated layout with helpful content organization
Distinction between press releases and news coverage
The news coverage section explicitly includes the logos of the news outlets, so customers can clearly identify the source
A downloadable press kit is available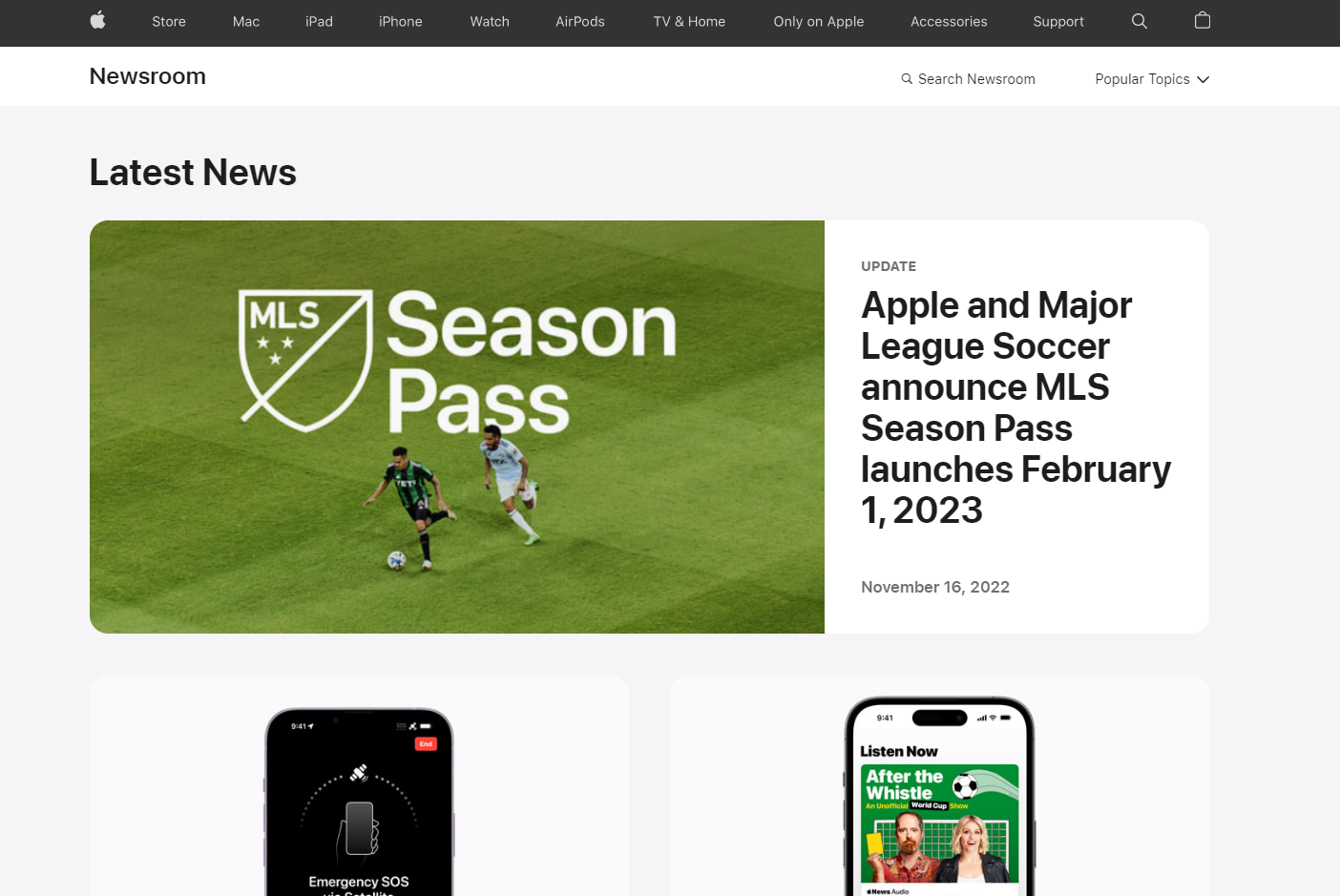 Apple Press Page
Apple's press page design resembles how an actual news website would look. Their news is always about their products, so they make use of visuals to highlight their stories. 
Press releases have a unique image attached to them 
It displays new product shots, which include detailed text descriptions to give press more in-depth information about their new and upcoming products
A search tab is available in case journalists have specific topics they're looking for
A 'Popular Topics' section to highlight Apple's most relevant press releases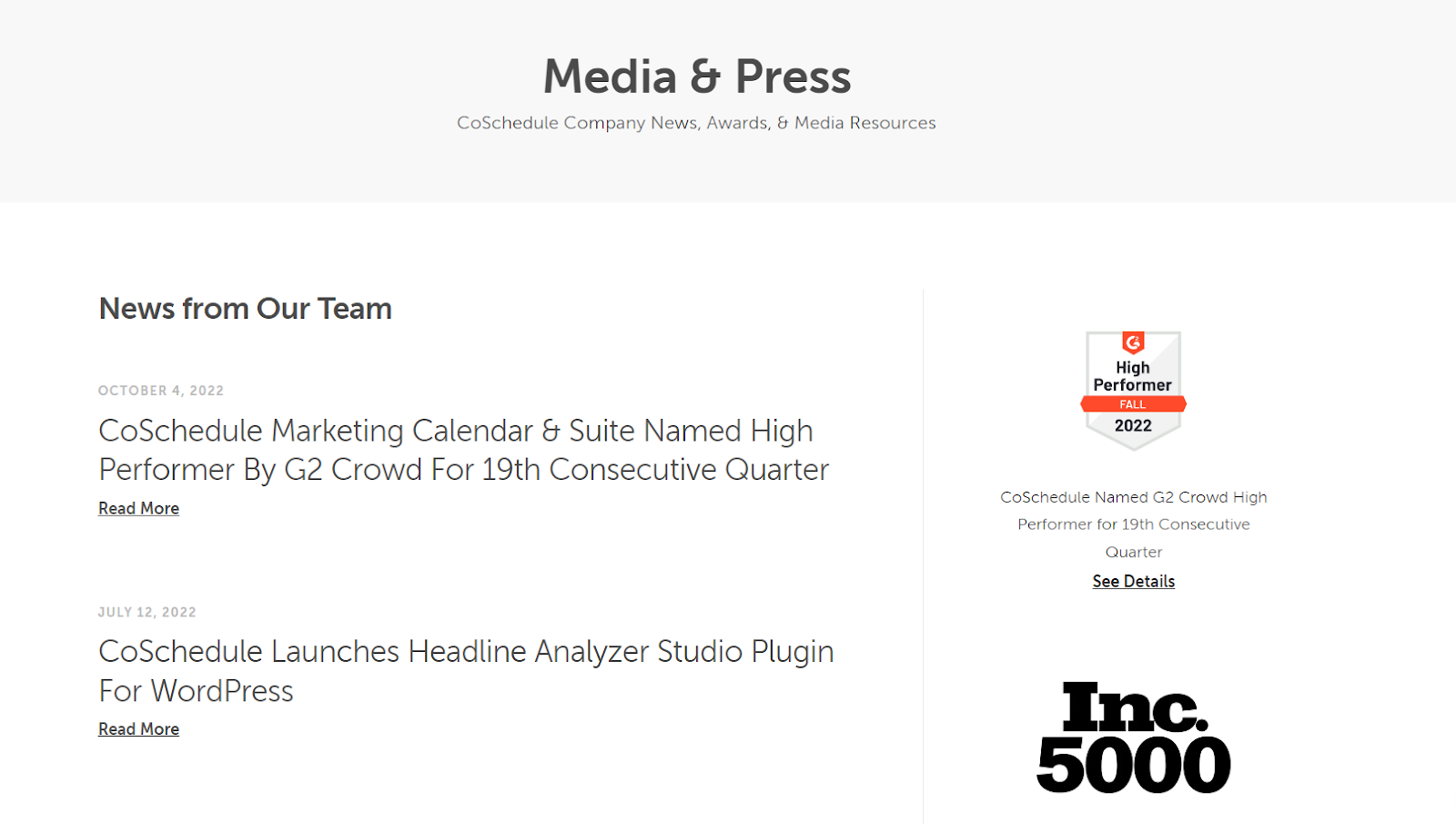 CoSchedule Press Page
CoSchedule's page greets journalists with their most newsworthy stories at the top of the page. 
It showcases the prominent publications that they have been featured in
A dedicated section for their certified awards that can be viewed in more depth to view what they each entail
They include a downloadable press kit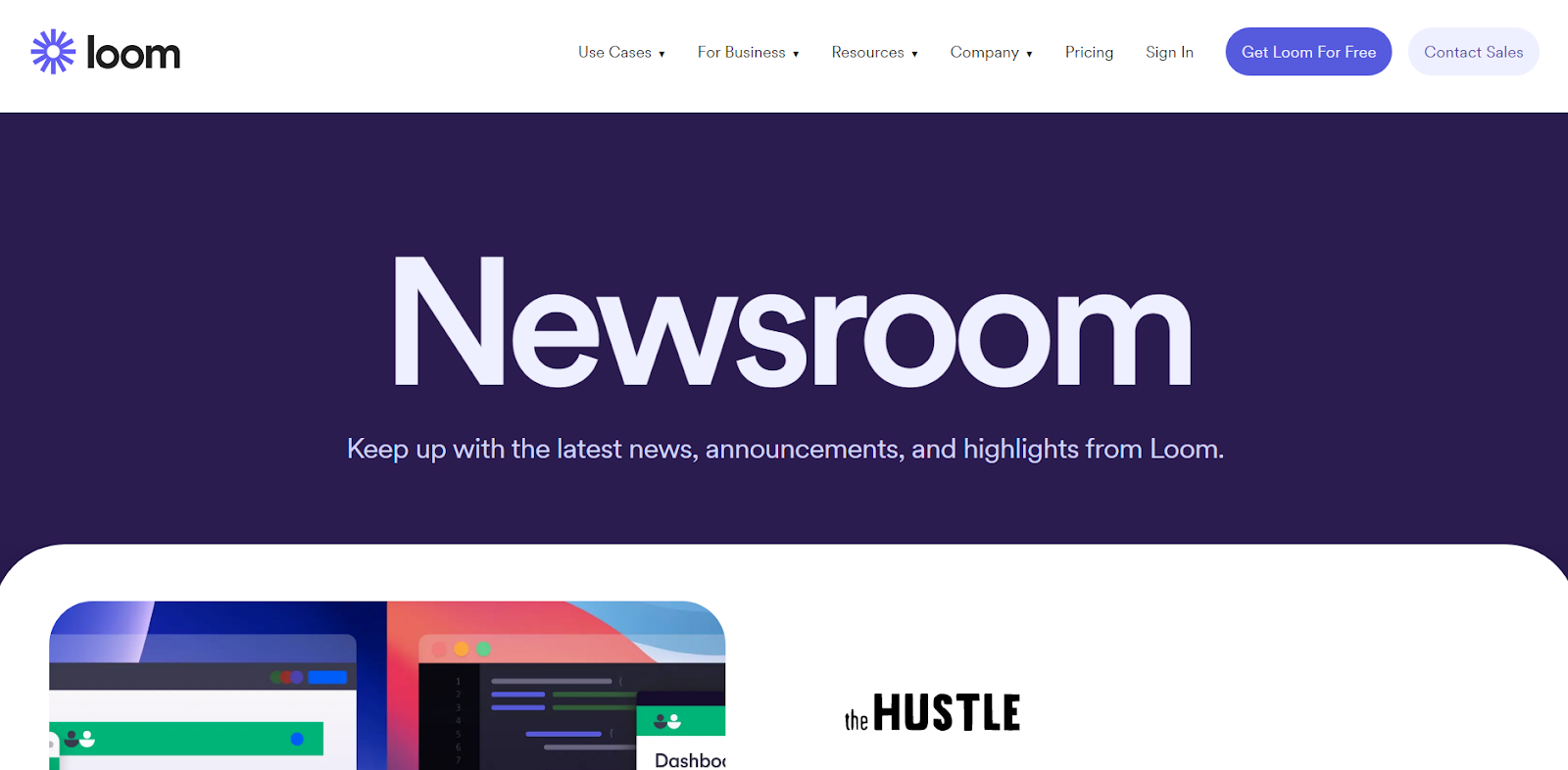 Loom Press Page
Loom's press page is aesthetically pleasing as it stays true to its purple theme.
Press highlights are the first thing you see on the page with the corresponding logos of the publications
A striking display of the company's awards
Contact information for their press team, as well as the name and picture of their Director of Communications is clearly displayed at the bottom of the page

FreshBooks Press Center 
FreshBook's press page is neatly organized and downloadable content is included throughout. 
Their PR team's email and phone number are displayed at the beginning of the page for easy access
Easily filter content by news coverage, press release, research, data, and other useful resources
Call to action for a free trial at the bottom of the page, encouraging customers to see their value for themselves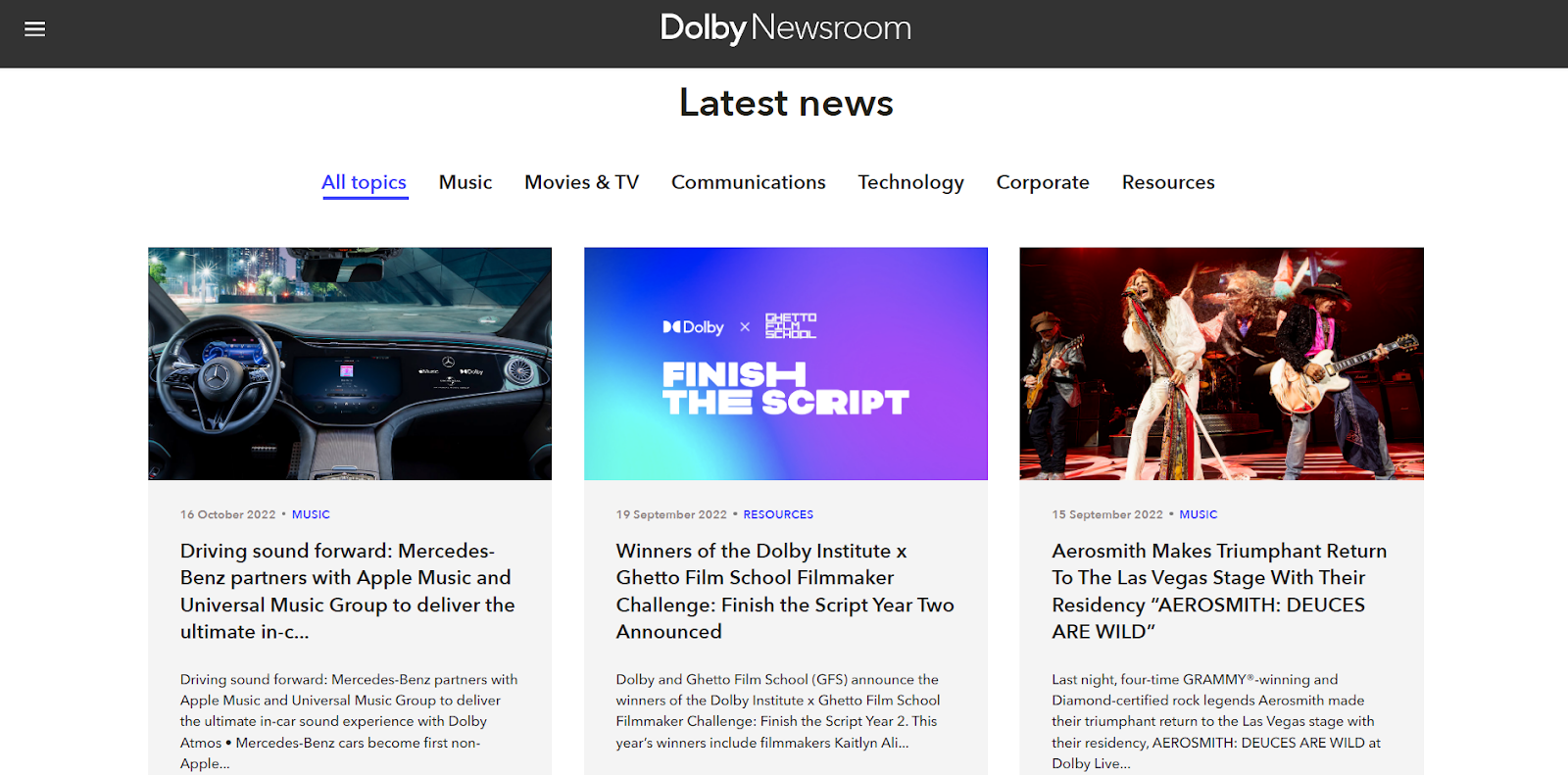 Dolby Press Page
Dolby's press page is constantly curated and updated to reflect their brand personality and achievements. 
They include multiple media kits that are categorized into each of their departments
Dolby stays true to its brand by including compelling photographs for each section and piece of news
They have a section showcasing their latest Tweets for easy interaction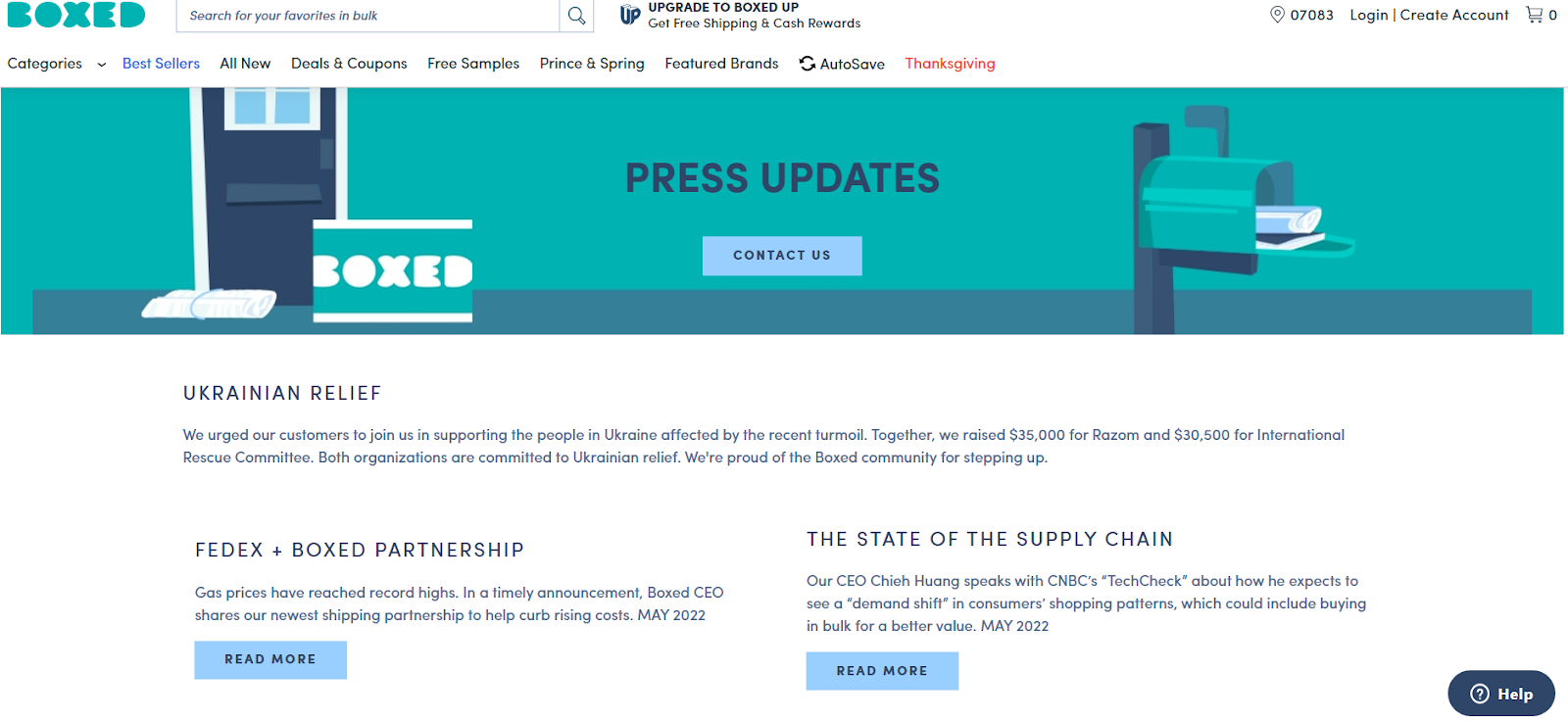 Boxed Press Page 
Boxed has a pretty simple press page setup that you can consider following if you want to start off with something basic. 
Clearly defined categories at the top of the page that covers every aspect of the brand
The contact button is clearly defined in the center of the page
Easy to navigate for both journalists and regular customers who want to know more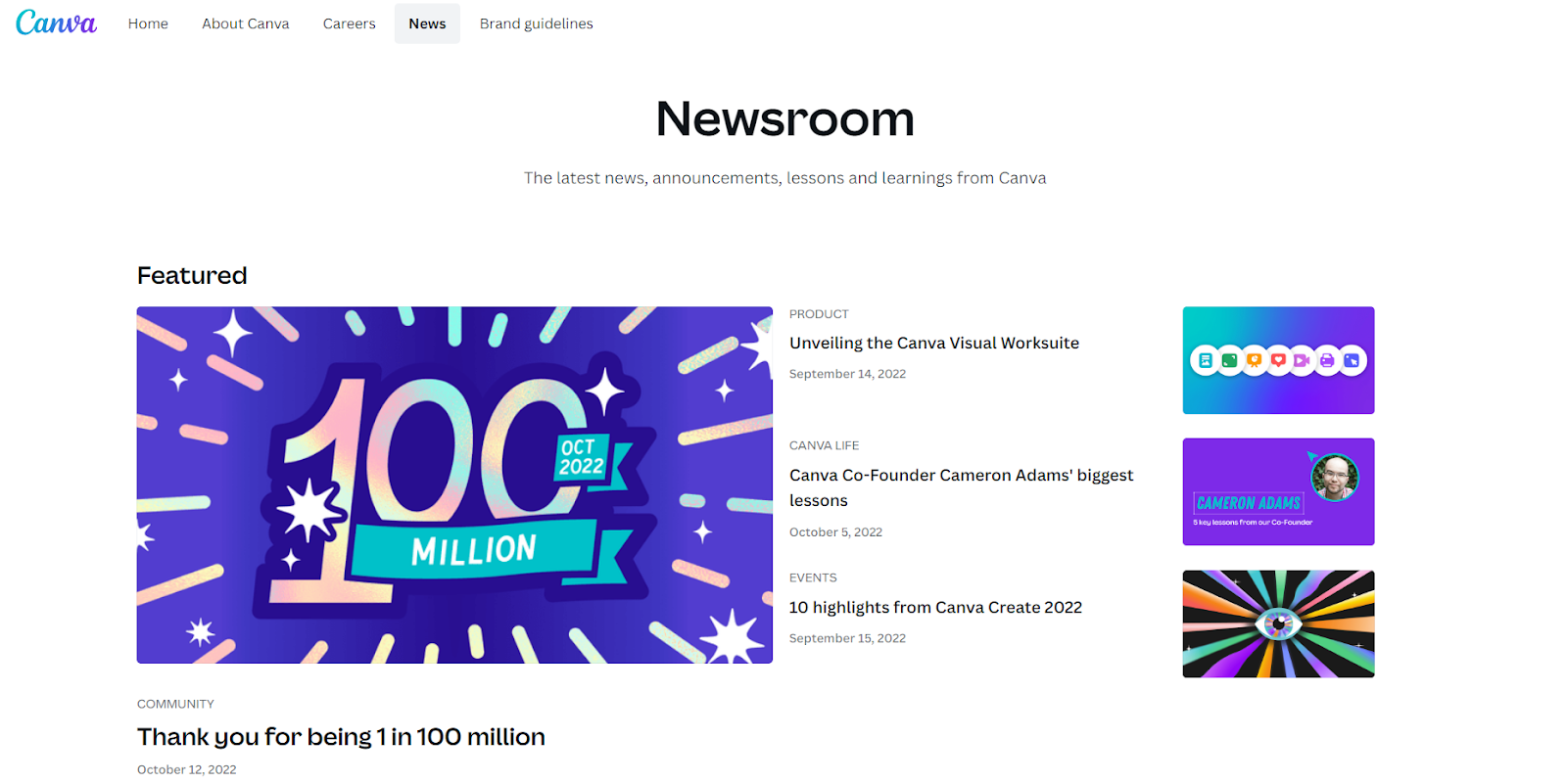 Canva Press Page
Canva's page boasts an interactive page with animated images. 
They include a press release section that's dedicated solely to their new and updated products
Highlighted sections exclusively for media inquiries and case studies
Call-to-action to subscribe to any future press updates
Conclusion
As a startup, making sure you have a solid foundation for building your press page is super important. Just because you may not have been featured in any publications yet, doesn't mean you can't showcase your own press releases to get noticed. 
The key is to make it attractive, clear, and accessible. You want journalists to see something special in your company through your press page. It's not just about the words you write but also about how you present.
Need help with building your press page? PressKitHero can help you create an extensive media kit to grab the attention of PR experts. You don't have to worry about your budget, we're startup friendly!